In the Middle East, digital marketing has become more important than ever. With a high level of internet penetration and a growing number of smartphone users, the region has become an important destination for international brands looking to reach their target audience online. But there are still many companies that don't know how to approach this part of the world properly, which is why we created this guide.
Why the GCC Market is the Most Attractive Market within the Region?
The Middle East marketplace is taken into consideration as a hot spot for political conflicts, instability, enterprise liabilities, and monetary issues. Quick marketplace research could show up with numerous types of complex barriers consisting of slow internet services in some countries, absence of a business environment, lack of online payment solutions, problems with customs, or maybe conflict zones.
For over a decade, the Gulf Co-operation Council (GCC) region, which incorporates 6 Arabic countries (Saudi Arabia, United Arab Emirates, Kuwait, Oman, Bahrain, and Qatar), has had a fast financial increase with a GDP growth of a complete 65% in the last ten years. Now in 2022, the overall GDP of the Gulf countries is $2 trillion, the GDP of the Gulf countries presents one of the wealthiest markets in the world.
Therefore, the Gulf is considered the most dependable marketplace in the Arab region. The political equilibrium and economic fast growth in the GCC nations is the primary thing that attracts investors and businesses. The GCC has some of the most competitive locations when it comes to the ease of doing business or establishing a startup. In addition, Dubai is deemed to be one of the most significant business hubs in the world.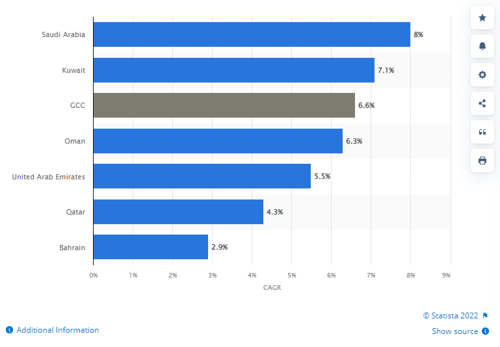 Source: Statista
1 - Important Factors
The Middle East is a highly diverse region, with many cultural differences that need to be considered when designing an online marketing campaign. We will help you to understand some of the factors and how they can affect your business.
1.1.

Research
Research is an essential part of any new business endeavor, and if you're getting into a new marketplace, we're sure you've been working on this. Be sure to get first-hand insights from the marketplace you're looking to enter. It needs to be in-depth with key segments and personas identified. This forms a critical part of developing your localization strategy which will need to take differentiation in language into account, for example. This will also make certain that you steer clear of misconceptions, and are capable of building your base in the region with the assistance of an ally. This may be essential for locating fulfillment here.
Use social media to discover what people are talking about.

Find out what people are reading, watching, and listening to.

Find out what people are purchasing.

Find out what people are fascinated by.

Find out what people are interested in.



1.2.

Approach
Once you've fully understood the surroundings and culture of your target audience, it's time to decide on your digital marketing approach for the Middle East. To do so, you want to set a budget, allocate resources, and plan campaigns. Since this is a marketplace of usually wealthy clients who're used to being exposed to digital marketing, your content creation needs to be high-quality. Depending on who you're targeting, you may need Arabic translation offerings to ensure your message is received. Another method is to construct your nearby presence physically, considering the fact that having a local identification can help increase trust in your business. The digital marketing strategy needs to completely encompass all possibilities in the region, which includes:
Paid Advertising

Email Marketing

Video Marketing

Affiliate and Influencer Marketing

AR and VR Campaigns



1.3.

Optimization
To make sure your marketing stretches as far as it can, optimization is necessary. This actually means that each chance to enhance your reach should be taken, as this will help your content material to be listed and shared accordingly. Each platform for digital marketing can have its very own optimization guidelines. It is most drastically relevant to content marketing, which will include helping search engine crawlers categorize the content material. You can also make your content stretch similarly with the aid of creative methods to repurpose content. There are several advantages and opportunities to grow through SEO which is a broadly under-utilized space.
1.4.

Trends
Since the GCC is highly superior when it comes to all things digital, it's best to maintain an eye out for trends. This is probably where they'll first break, so successful entrepreneurs need to aim at being first adopters. It is likewise essential to have a holistic range of marketing collateral to cover all your bases.
2 - Digital Marketing Strategy for the Middle Eastern Market
A successful Middle Eastern marketing strategy must be culturally relevant. The goal of this is to make sure that you don't offend or alienate your target audience, while still making sure they understand what you're trying to say. So here are some relevant digital marketing strategies, which will help you to expand your business more effectively.
2.1.

Social Media Marketing
It is vital to apprehend that social media marketing is not restricted to Facebook and Instagram. We need to understand that choosing the right social media channel is the cornerstone for setting up the social media strategy. Each platform has its feature and its effectiveness rate.
People should understand that Instagram for Arabic customers is more about entertainment and trends. Therefore, implementing the provincial Instagram marketing campaign should have aligned with Instagram's user behavior. Therefore, cognizance and retargeting are the most applicable objectives for the channel.
2.2.

Google Ads and PPC
GCC has a rising consumer who's attempting to find products and services. Google Ads such as search Ads are a tremendously powerful way to access the vicinity in a short time and generate conversion at a lower cost. Google Shopping is finally active now in all nations within the middle east, which provides a terrific opportunity for eCommerce. However, Arabic PPC and Search Engine marketing require expert competencies in configuration and optimization.
2.3.

SEO and Content Marketing
Search engine optimization and content marketing have been one of the most effective digital marketing services for businesses in the middle east region. Dubai, Egypt, Saudi, and Jordan had the biggest proportion of online content material. With the upward thrust of SEO services and awareness in the GCC, the marketplace is turning more competitive and accomplishing maturity for some categories.
Most importantly, some SEO agencies in the middle east are looking to sell SEO packages without studying the client's needs or building quality content. This finally ends up with low-quality content scrapped from the internet and edited. Therefore, it is essential to avoid SEO packages and look for remarkable offerings.
2.4.

Video Marketing in a Native language
It's important to use local language in your marketing strategy, and avoid using Western images or videos that may not resonate with the culture of the people you're trying to reach. You should also consider how customs and rituals will affect, how your product or brand is perceived by consumers. For example, if there isn't a correlation between a wedding ring and monogamy in Arab culture—which many people think isn't true—it might not make sense for you as an advertiser or marketer to use this concept when promoting something like marriage rings."
2.5.

Email Marketing
The GCC is a hotspot for enormous offers and Email campaigns. However, the region didn't attain the full maturity of Email marketing as a digital marketing tactic. There is a considerable quantity of spamming and impersonalized campaigns that can be flooding the user's inbox without a suitable automation plan. The most fundamental guideline for Email marketing in middle eastern countries is to focus on the right frequency and fine-track with personalization.
3 - Grow Your Business with Us
When you comprise the above into your digital marketing strategy, you'll be well on your way to locating your footing in the Middle Eastern market. It may be complicated to navigate, however, once you do, keep tracking the overall performance to further improve. Be certain that your business is patient as it can take a while to set up your brand here, however, it will be nicely worth the wait once you do.
Work with us at ConnectIn digital - we're a digital marketing agency with premium Hubspot solutions primarily based in Dubai with years of experience helping businesses from diverse industries to expand within the middle east.