8 Proven Ways To Find A Good Seo Company In The Middle East
The Middle East is home to cultural diversity, with 19% Emirati, 23% Iranian, 50% South Asian, and a predominant percentage of people belonging to many different cultures. Doing business at such a place comes with perks and challenges.
At present, every single digital marketing wing, whether it's social media or search engine optimization, is booming. Establishing a business forefront never overshadows the enormous perks of having a digital presence. And with that comes the hustle of choosing the best SEO company in the Middle East.
With too many options, what are those crucial aspects, and how business owners should evaluate their needs to make the right decision? We'll be covering everything you want to learn about identifying your business's SEO needs and tips to pick the best SEO agency.
Expert Ways To Find A Good SEO Company in The Middle East
Due to the high internet penetration in the Middle East market, companies are investing in both organic reach and paid marketing. In 2020, internet ad spending in the MENA region crossed around 4.4 billion U.S dollars and is expected to go beyond 7.9 billion by 2024. To be able to streamline your marketing operations, you need to evaluate your business needs. The more you know your business, the better you can evaluate your options. So, let's begin the guide.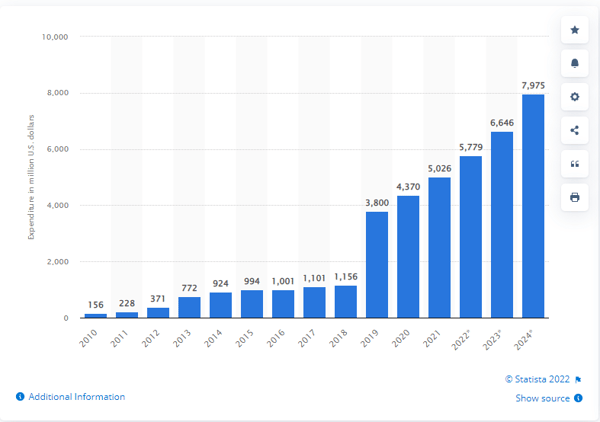 1. Understand Your Business Needs

Before you start hunting for an SEO firm, you must evaluate your business needs. The scope of your requirements and expectations will reflect various aspects, it be budgeting or checking the experience of your shortlisted company.

2. Carry Out Some Middle East Market Research

You must dig deep into the SEO industry of the Middle East to know what's in trend and, above all, who is in trend. You get to clarify many misconceptions you may have regarding the outcomes. For instance, many companies think with SEO; they can get quick returns. But that's not possible. Growing organically takes time..

3. Set A Goal

This is an important step. Set a target. It's highly necessary to have metrics to gauge the campaigns. For instance, the conversions you would expect, the lead count you want at the end of a quarter.

4. Evaluate Your Budget

Once you know your needs, requirements, and goals and have carried out deeper research about the current market, you can set your budget range. The range will help you shortlist the companies that fit under the bracket.

5. Start The Hunt

You can not just Google out the company by typing the common query "SEO company"; instead, be specific and use the key phrase "SEO company in the Middle East." With this query, there are high chances you will land on the best options. Those ranking at the top would be the most famous or the most reputed of all. But it's good if you try to contact as many good options as you can.

6. Check Social Platforms

Social media platforms like LinkedIn and Facebook do help business owners find agencies and freelancers who offer

SEO services in the Middle East.

You can set filters in LinkedIn, select your region and categories and start hunting from there. There is a whole new world to connect with not only firms but also with its people.

7. Check Local Search Results

Local search results are the best option. What happens is, you get results from companies who are physically located near you or operate in your region. These companies are most suited as they are well aware of the market and its consumers. They practice region-specific trends and ensure a greater organic penetration into the market.

8. Evaluate Your Shortlisted Middle East SEO Agencies
Once you have successfully shortlisted your companies, how will you pick the best from them? What criteria can define which one is most suited to your needs and goals? Here is a list of aspects you must check in your candidates:

8.1. Check The Experience

Before anything else, experience matters the most. It's not only about the years spent in the industry serving but the diversity of projects and the challenges the company has encountered and overcome. It gives an idea about their learning and shrewdness. You surely would not want to work with somebody who knows nothing and just merely experiment on your budget with your brand.

8.2. Ask For SEO Reports and Case Studies

Get real metrics of the company. Ask them to share their SEO reports and their KPIs. Why you should go with them and not with others? What is different and unique about their services? You should be clear about who you are signing in with. Do they have the abilities and capabilities to generate the outcomes you expect or not? All these aspects are crucial to evaluate.

8.3. Schedule An interview

Now that you have checked their portfolio and experience, it's time to evaluate their communication skills. See how empathetic they are and if you are able to communicate your ideas and plans with them or not. There should be a level of comfort and openness to adding clarity in the project.

8.4. Discuss The Service Package

Usually, companies offer custom SEO plans suiting to the client's need. So, must get a complete understanding of how things will proceed. Ask them to create different milestones. For each milestone, you must state your desired outcomes and expectations. It's good if you keep everything transparent related to the budgeting plan as well. You must know how many resources they'll appoint for your targets and the number of efforts with initial and monthly investments needed.

8.5. Evaluate Their Strategies

Never forget to first give them time to snoop into your business and let them create a proposal with strategies they will be executing. You should know how confident they are and if the ideas they are about to implement have the strength to succeed or not. Even if you hire a professional firm, it's always good to stay involved.
Wrap Up
Search engine optimization, if done right, has greater potential than paid marketing. Though it's a long-term process with the lead generated within the first 6 to 8 months, the efforts are worth every penny invested. Get in touch with a promising SEO agency in the Middle East, ConnectIn Digital, and enjoy the most reliable SEO services offered at market-competitive rates.